SchutzartikelMoisturizing Antibacterial Hand Gel1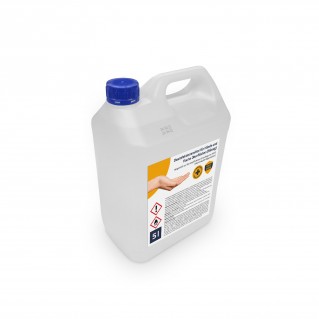 Moisturizing Antibacterial Hand Gel
reference
10095
Delivery mit UPS Std ca. am:
more details about delivery times
Description
FORMULA for DISINFECTING HANDS and FLAT SURFACES
PREPARED BASED ON THE RECOMMENDATIONS AND RECIPE OF WHO (WORLD HEALTH ORGANIZATION)
Product for hygienic hand disinfection, in situations and areas where a high level of hygiene is required: in health care facilities, food industry, public utilities, industrial and domestic
environments, as well as for disinfecting surfaces and equipment that do not come into contact with food. The product shows bactericidal, fungicidal and virucidal effects.
Directions for use: hygienic hand disinfection rub 3 ml of the product into previously washed hands for 30 seconds. Avoid contact with eyes.
Surface disinfection: Apply to the previously cleaned surface, moistening it completely. The surface must remain moist for 5 minutes. No rinsing is necessary.
Active substance in 100g of product: ethanol 83 g.
First aid: in case of consumption: do not induce vomiting. Rinse mouth with water. After inhalation provide fresh air.
Side effects: prolonged use of the product on the skin may cause dryness, redness.
Safety information: H225 Highly flammable liquid and vapour. H319 Irritating to eyes. P101 If necessary to seek medical advice, show this container or label. P102 Keep away from
children. P210 Keep away from heat, hot surfaces, sparks, open flames and other sources of ignition. Do not smoke. P233 Keep container tightly closed. P280 Wear protective gloves/work
clothes/eye protection/face protection. P305+P351+P338 IF THE PRODUCT GETS INTO EYES: Rinse with water carefully for several minutes. Remove contact lenses if present and easy to
remove. Continue rinsing. P403+P235 Keep in a well-ventilated place. Store in a cool place. P501 Dispose of the contents/container into the waste separation tanks present in the
municipality.
Infos
| | |
| --- | --- |
| Weight (kg) | 6.00 |
| Production time | 1 |