SchutzartikelAntiviral Copper Tape Shieldex®1
Sale!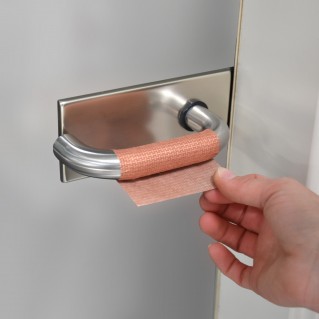 Antiviral Copper Tape Shieldex®
reference
10090
Delivery mit UPS Std ca. am:
more details about delivery times
Description
Antiviral Copper Tape from Shieldex® for doorknobs.
The antiviral, antibacterial and fungicidal properties of copper have repeatedly been proven by multiple scientific studies ( https://www.ncbi.nlm.nih.gov/pmc/articles/PMC3067274/ )
- Size: 8cm x 10cm x 0,55mm
- Store in a cool and dry place - 15-25°C up to 65% relative humidity

Security notice:
The copper tape is to be used exclusively on doorknobs. Please avoid prolonged exposure to skin. This product serves as a supplementyr hygienic action and does not replace hygiene measure such as hand disinfection and frequent handwashing!
Product is flammable, keep away from fire
avoid eye contact
contains swallowable small parts, keep away from children!
do not swallow, keep away from mouth
copper may cause allergic reactions
product is conductive, keep away from electricity sources
decoloration is normal (oxidation)
Infos
| | |
| --- | --- |
| Weight (kg) | 0.00 |
| Production time | 1 |