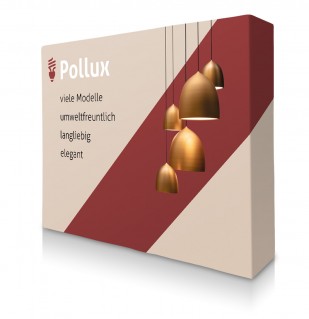 Textile Wall straight
reference
1315
Delivery mit UPS Std ca. am:
more details about delivery times
Description
The textile-exhibition-wall is assembled and ready for use in just a few minutes. Assembly and disassembly require no tools.
The print is easily attached to the solid frame with velcro thus offering every comfort that a modern popup display should. The print is large enough to attract your customers attention while also fitting any exhibition stand. Folded up its only 23 x 43 x 90 cm large and weighs only 13.2 kg (without media). Included in the scope of delivery are a trolly for transportation as well as the printed media with the velcro bands for attachment.

+ Base area: W x H x D / ca. 2200 mm x 2200 mm x 300 mm (for 3x3)
+ Dimensions: 2970 x 2270 mm / 3740 x 2180 mm / 4460 x 2180 mm
+ INCL. quality print
+ Production time: 7 work days
+ Weight: 13,2 kg
Warning:
The textile material used for this product can have slight wrinkles due to not being fully taut across the frame. These wrinkles can be reduced by tautening the print, but may not be eliminated fully.
Data sheets and layout samples
Infos
| | |
| --- | --- |
| Weight (kg) | 11.00 |
| Production time | 7 |